Welcome to Papa Joe's Ristorante & Pizzeria
Papa Joe's Restaurant & Pizzeria is in Pittsfield MA, in the beautiful Berkshires of Western Massachusetts. Papa Joe's Restaurant & Pizzeria is an ever-popular Italian Restaurant, a local favorite for great Italian food and delicious homemade pizza. If you're looking for the place where all the locals go, Papa Joe's is thee place, we welcome you to join us in our family restaurant for great meal at prices you can afford. Can't get to us, not a problem, our full menu is available for Carry Out and Delivery to all of Pittsfield and South Street area of Dalton, MA. Including all Hotels, Motels and B&B's in the Pittsfield area.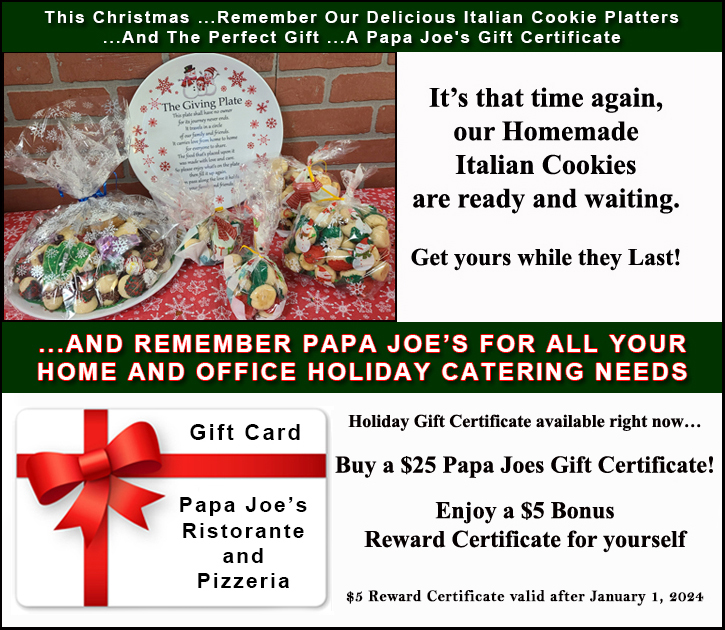 Papa Joe's meals and pizzas are made from old family recipes. It all started back in the late 1940's with the merging of two Italian Families from Italy, the Colombari's and Cimini's. Papa Joe himself started in the food business at a very young age while living in Lee, MA. As a teenager he was selling hot dogs at a local baseball park and after time, Papa Joe became a popular caterer at the local Sons of Italy and Italian American Clubs. Pauline "Toffey" Cimini grew up in Pittsfield working in her parent's business Cimini n Son's Italian Market on Fenn Street. In 1954 the two families were joined when Joe and Pauline married. Their two sons, Joseph and Paul, both growing up working in Papa Joe's catering, also learning from their mother, they both worked in the foodservice industry.
Paul, at an early age, was always willing to help his mother in the kitchen cooking, especially when she was making pizza. Throughout their family and friends, Paul's mom, known as Toffey, was well known for her cooking and pizza. What became as a well-known tradition Toffey made pizza's every Saturday and the funny thing was, in a family of only four, she always baked enough pizza for 8 to 10 people. Friends and family always seem to show up for a great pizza every Saturday. Here at Papa Joe's Grandma Toffey's amazing sauce and fresh dough is still made by her original recipe, it's never been changed.
Grandma Toffey was also known for baking the most delicious Italian bread, which she learned from her father, Felix Cimini, a baker from Italy. Here at Papa Joe's her son Paul continues the tradition of homemade Italian Bread baked fresh every day. All of our sub rolls, handrolls and Italian bread are made from the same recipe Grandma Toffey used. Our fresh Italian bread is served with all our dinners and also available by the loaf. Her son Paul and his family have continued the traditions here at Papa Joe's Ristorante and Pizzeria for the past 33 years.
We hope you enjoy……Bon Appétit.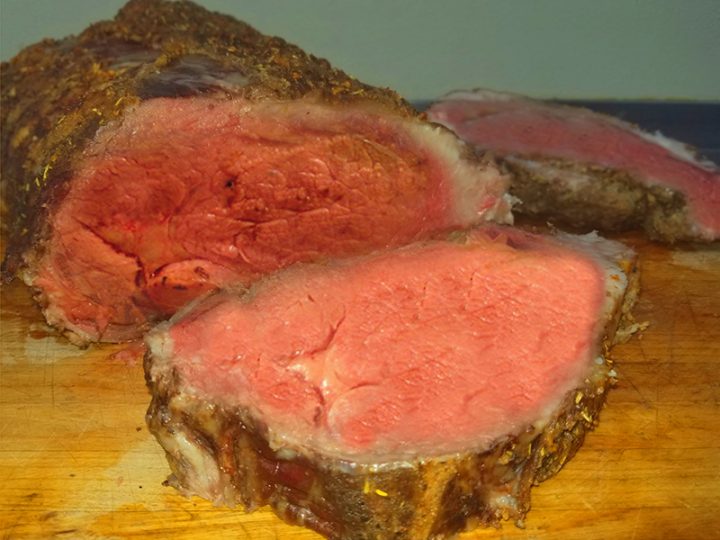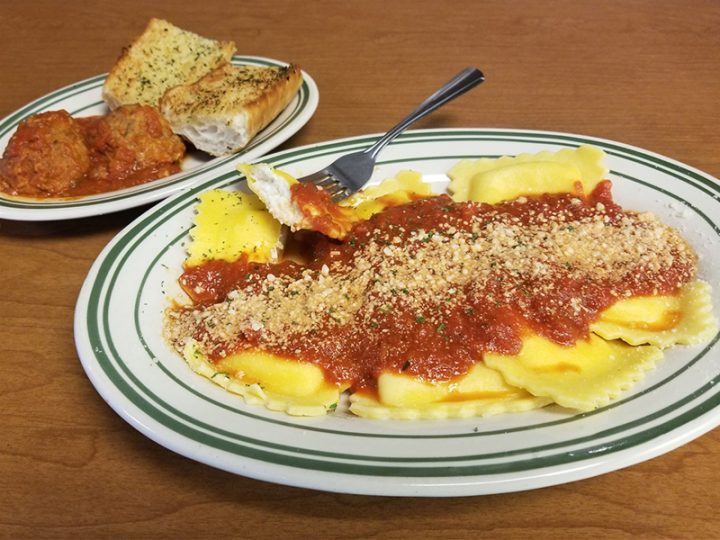 Papa Joe's Homemade Cannoli's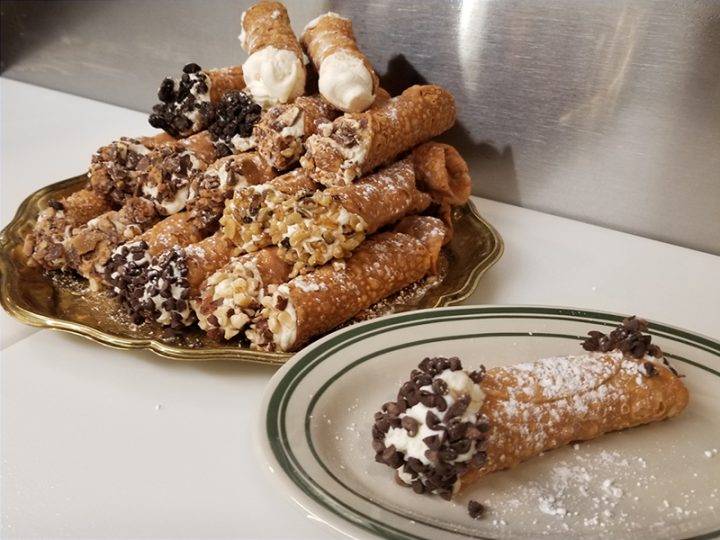 The Cannoli is a popular Italian dessert known throughout the world. The Cannoli originated in Sicily and are a staple of Sicilian cuisine. In Italy they are commonly known as "Cannoli di Sicilia", Sicilian Cannoli.
Cannoli consist of tube-shaped shells of fried pastry dough made with marsala wine. The filling is where the Cannoli gets most of its flavor. The creamy sweeten filling is made with Ricotta cheese, served as is or with other traditional ingredients such as Chocolate, pistachios, candied citrus, etc.
Cannoli maybe easy to find, however some have been Americanized with a version made of a simple custard made from sugar, milk and cornstarch. NOT Here at Papa Joe's. Throughout the world truly great ones are traditional Sicilian Cannoli made only from a sweeten High Quality Ricotta and only using pure flavors of Vanilla, Lemon, Almond or Orange.
Here at Papa Joe's that's what you'll get a delicious Traditional Sicilian Cannoli, Paul makes his Cannoli using his grandmother, Congetta Colombari's, recipe brought here from Canicatti, Sicily.
A Cannoli is a decadent, yet light dessert that will satisfy your sweet tooth, while bringing you back to old-world Sicily.
Papa Joe's now is serving Cannoli in many of the traditional flavors along with some new, more modern flavors.
Reese Peanut Butter Cup, Hazelnut, Chocolate Chip, Almond, Pistachio, Oreo Cookie and Walnut.

Treat yourself or your guest with one of the best desserts, Papa Joe's Homemade Cannoli. Mix and match your Flavors in Two Sizes.
How can you get it any better with a homemade cannoli from Papa Joe's? This is how now Papa Joe's has kicked it up a notch now serving our Homemade Cannoli Pies Traditional Chocolate chip and also Cookies N Cream Cannoli pie.