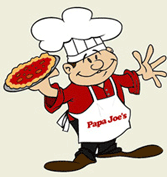 Papa Joe's
107 Newell Street
Pittsfield, MA
442-PAPA
499-2151
Papa Joe's Pizza is made from an old family recipe. We start with Papa's famous Pizza Dough that's made on the premises, fresh every day. Then we add our own Pizza Sauce, made from the finest whole plumb tomatoes and spiced the way Grandma did. We use only 100% Mozzarella Cheese, and for the finishing touch we use only the best pizza toppings we can find.

Thank You For Voting Our Pizza
"Best Of The Berkshires"

Papa Joe's Is Celebrating 28 Years
Of Serving The Berkshires, And
Showing Our Appreciation With
Some Great Deals!!!
* * * * * * * * * * * * * * * * * *
Medium or Large
Cheese Pizza Only $8.00

---

"Dinner for Two"
Any 2 Pasta Pleasure Dinners
with Salad and Bread
...and for Dessert
2 Homemade Cannoli
for ONLY $28

---

FREE! 8" Cheese Cake with the
Purchase of ANY Extra Large Pizza

---

Pasta Plate Dinner with
2 Meatballs or 2 Sausages
$8.00
Includes Salad and Bread

---

Specials are Dine-In or Carry-Out Only
Cannot be combined with any other offer, promotion, or discounts
* * * * * * * * * * * * * * * * * *
You Want Even MORE Specials...
Like us on Facebook.
Everyday Papa Joe's will be Posting more Daily Specials.
See what Deals Papa Will be Cooking up all week long....
Visit and Like us on Facebook
https://www.facebook.com/papajoesristorante

Located in the beautiful Berkshires of Western Massachusetts and just minutes from downtown Pittsfield, Papa Joe's Restaurant & Pizzeria is an ever popular Italian Restaurant and local favorite, for great Italian food and delicious home made pizza. Looking for the place where all the locals go? Papa Joe's is thee place and we welcome you to join us for a great meal, in a family atmosphere and ...at a price you can afford. Can't get to us, not a problem, in addition to Dine In and Carry Out, we offer our full menu for Local Delivery, including the areas Hotels, Motels and B&B's.