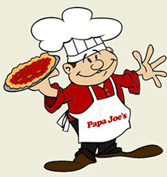 Papa Joe's
107 Newell Street
Pittsfield, MA
442-PAPA
499-2151
Please Take A Moment And Subscribe To Our Newsletter.
Be The First To Know About Specials, Discounts, Announcements & More!
We assure you that your email address will never be shared, sold, exchanged,
or used in any way beyond our Newsletter.
Thank You!
Papa Joe's Ristorante and Pizzeria